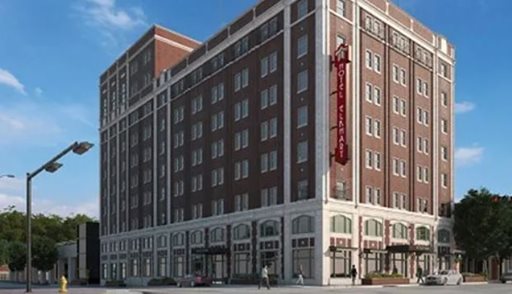 Ground Broken on Hotel Elkhart Project
ELKHART –
The transformation of a nearly century-old building in downtown Elkhart is underway. Officials have broken ground on the $15 million effort to renovate the Hotel Elkhart, which is being led by Mishawaka-based Cressy Commercial Real Estate.
The Hotel Elkhart was built in 1923 and was once known as "Northern Indiana's Finest Hotel." It later served as an apartment building. The renovation project will return the building into a 93-room boutique hotel with a regionally-branded cafe, taproom/bar, and a breakout meeting space. The Athenian Ballroom on the 9th floor will also be completely renovated with a rooftop deck.
The project was first announced in October 2017 and received additional funding from the Regional Cities Initiative in February. The developers say the project adds to efforts to transform downtown Elkhart, including the Elkhart Heath and Aquatic Center.
"The South Bend – Elkhart Region is investing in its future through quality of place projects like the Hotel Elkhart which transforms a largely unused space into a tourism and commercial destination for downtown Elkhart," said Pete McCown, president of the Community Foundation of Elkhart County. "The availability of hotel rooms adds a critical component to the overall vision for the future of downtown Elkhart and complements other anchor projects that together will create a thriving urban environment where top talent will choose to visit, live, work and play."
The city of Elkhart is also a partner in the project, providing commitments for improvements to surrounding streetscapes, an existing parking garage, and more. Mayor Tim Neese says having a hotel return to the city's downtown is "symbolic of a reenergized community with demand being driven by strategic investments in the immediate area."
(source: http://www.insideindianabusiness.com/story/39617995/ground-broken-on-hotel-elkhart-project)